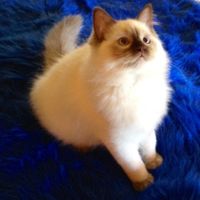 Diva is a gorgeous, sweet girl that purrs instantly when she is petted. She is very happy, walking with confidence and very playful! Diva has made good friends with Hazel Grace and Jewel. Romeo is already happy to see her. Diva came to us from Ragalon Ragdolls in Australia. It is with great gratitude that I express my appreciation to Pam Baker for allowing me the opportunity to have such an amazing little girl! She took wonderful care of her and it is apparent that she loved Diva! I will always do the same and value her as the wonderful, sweet Ragdoll that she is. I hope you will get to meet Diva as we attend shows soon! Thank you Pam for entrusting the care of this wonderful, precious girl to me! Eventually she will become a Queen for Aria Ragdolls!
Ragalon Diva of Ariaragdolls
Please click on Diva's registered name for her lineage!
HCM.                N / N.   
PKD.       
FeLv.                 Negative.     
FIV.                   Negative.    
Blood Type: